There are a variety of products in the line. Some of them are as follows:
Tio Nacho Mexican Herbs Shampoo
This is a product that comes in a green package. It is designed to hydrate and nourish the hair as well as clean it. The result is healthier looking hair. The shampoo removes excess oil from the hair leaving it with more youthful sheen, volume, and shine. The shampoo is designed to make the hair stronger and to reduce the amount of breakage. Gray hair, due to sun exposure, is also reduced.
Tio Nacho Younger Looking Shampoo
This product comes in a brown package. It is designed to be an anti-aging shampoo that is formulated with conditioners, moisturizers, royal jelly and botanical extracts. With this product, you may find that you can shampoo your hair without the need for a conditioner. Therefore, the shampoo cleanses the hair but also nourishes it. Hair is left looking younger looking, manageable and soft to the touch.
Tio Nacho Red Pepper Extract Shampoo
This is a product that comes in a fuschia package. It is a shampoo that contains chili pepper and royal jelly extracts designed to nourish the scalp and the hair. After using the shampoo, the hair becomes fuller and shinier. Hair that is fragile becomes stronger and more vibrant.
Tio Nacho All Day Volume Natural Lightening Conditioner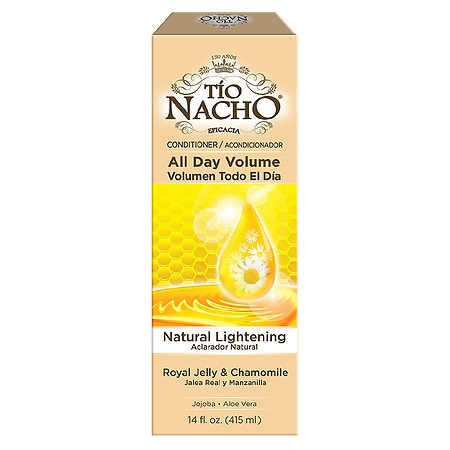 This product comes in a beige package. It is a conditioner, but it is designed to not only moisturize but also lighten. The conditioner is made with royal jelly and aloe vera natural extracts, jojoba, and chamomile. Hair becomes soft with lots of sheen, but also with tones that are clearer. It does not change the color of the hair, but only gradually clarifies one or two tones of the hair, particularly maintaining blond color.
The Tio Nacho website is written in Spanish. However, their line of shampoos and conditioners can be found at a variety of sources online for English speaking people across the globe. Prices will vary, but the shampoos and conditions are priced comparable to shampoos and conditioners found in professional salons.
Check out this video too: